The Scion FR-S is a performance driving machine, developed from the accumulated knowledge and continuous research throughout Toyota's extensive history of racing. Fueled by passion and evolved by competing in arenas from World Rally Championship to Formula 1, Toyota has gained valuable information and developed technology that has trickled down into all of its performance cars like the MR2, Supra, Lexus LFA and now the Scion FR-S.The FR-S gets its core inspiration from three Toyota models, the Sports 800, 2000GT and the Corolla GT-S. The Sports 800's most important inspiration to the FR-S is its innovative and unique combination of a front-mounted boxer engine in a rear-wheel drive configuration.

The flat architecture of the boxer engine, allows it to be mounted low, dropping the center of gravity down, resulting in sporty handling characteristics. For this reason, the FR-S adopted this distinctive combination.The 2000GT was perhaps the first Toyota model to gain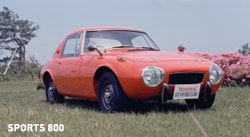 recognition within the sports car world, setting 13 international speed records. When it debuted in 1967, one car magazine described the 2000GT as, "A fantastic engineering masterpiece on wheels? a magnificent manifestation of complete automotive ingenuity."
Even by today's standards, the 2000GT's styling is sophisticated and modern. The exterior design of the FR-S is heavily influenced by the 2000GT's profile, making it extremely low to the ground with a long, sleek hood.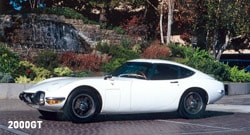 Although the S800 and the 2000GT play a significant role in the roots of the FR-S, the car that inspires the Scion sport coupe the most is the Corolla GT-S, known by its true fans as the AE86 or "Hachi-Roku," which means 8-6 in Japanese. The 5th generation Corolla GT-S model, offered in model years 1985-1987, gets its "AE86" name from the car's unique chassis code given by Toyota. It was a moderately priced sports car with a front-engine in a rear-wheel drive configuration. The AE86 didn't rely on brute horsepower, but instead a remarkable combination of a lightweight design and manageable power, offering a perfect balance. It made its way into almost every genre of racing from grip to drift?and from the circuit to mountain roads.
Although the FR-S will arrive almost 30 years later and doesn't share a single piece of hardware, the spirit and the heritage of the AE86 bleeds into every ounce of the car. The goal was to create an authentic rear-wheel drive sports car with compelling style, exceptionally balanced performance and handling, flexible utility and surprising MPG. The FR-S is expected to achieve all of that in a package that will no doubt bring the "Sport" back to the "Car."The Scion FR-S; built by passion, not by committee.