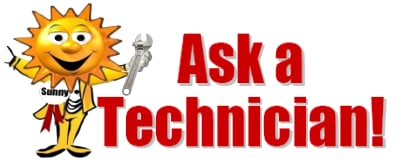 Do you have a question? Sunnyside Toyota and our Team of highly skilled Technicians are ready to assist. Fill out the form on the right and we'll have a technician send you an answer.


I have a 2004 Corolla and the weatherstripping on the back doors has always been loose. Is there easy, inexpensive solution? Bob

Bob, The weather-strips are designed to sit in a "track" that is on the outer edges of the door frames. If properly installed they should stay in place. They are designed to move so that the seals stays flexible for best sealing.
If they appear to be in the tracks and still are loose, I would recommend you stop by for a further evaluation. It is possible that they are misaligned or torn. Thanks for your feedback, Ed Stein

My clock does not light up to show the time..what is its problem?

Margaret, The most accurate way to answer this would involve an inspection of the clock unit. That being said, in most cases when there is a clock that no longer displays, the clock LED is burned out. If that is the case the cost
to replace is $325.00. There are some coupons online that could be applied to this cost. Please call for an appointment, or try the online appointment feature on our website. Ed, Stein

My 2001 Prius has some warning lights activated. The triangle with the exclamation point and the car on the LCD display with the "!" on it. It says in the manual to take it to a Toyota Dealer, what is the real problem and how much is a diagnostic?

The warning indicator requires Dealer Service. At Sunnyside we have 4 Hybrid master Certified Technicians ready to diagnose the condition. The Diagnostic fee for a Hybrid Vehicle is $99.95. For this you will recieve a complete diagnostic evaluation and a full multi-point vehicle inspection. Ed Stein, Service Manager

Do you use a Haweka adapter to balance tires for the 4Runner?


Great Question!! On vehicle with larger wheels such as the 4Runner, Tacoma and Tundra - Toyota recommends a Haweka Balancer Adapter. Since we are a Certified Toyota Service Center, we have and use the tool!
Ed Stein, Service Manager

We have a 2009 Rav4 with a little over 2,000 miles on it and probably six weeks away from it's first oil change. We recently noticed that the interior trim, passenger side door, which may contain air bags has become loose. I tried to snap it back in place but can't. Is this something that can be readily fixed during an oil change appointment? In other words, I am looking to make an appt. for an oil change and wait for it. Can the interior trim be repaired in that shor of a time frame?


Yes, it does not sound like it would be any problem. Do you know that you can schedule your appointment online?